Mungo Homes Foundation Week of Service 2023
May 18, 2023
May 18, 2023
The Mungo Homes Foundation is proud to announce the second-annual Week of Service, which took place May 8-12.  With a tradition of giving back to the community and adhering to the Mission Statement of "To Serve so that others are empowered to thrive," Week of Service is a company-wide initiative across all nine Markets where Mungo builds. Local organizations were nominated by local Mungo Team Members and selected by each local Mungo Homes Foundation Board of Advisors based on qualifying criteria. Mungo Team Members used a total of 1,924 company-allotted paid volunteer hours to benefit 16 organizations.
South Carolina
In Columbia, the team volunteered at the Big Red Barn Retreat in Blythewood to chop firewood, landscape and clean up and reset the sleeping quarters. The BRB assists combat veterans and first responders recover from traumatic life experiences through physical and experiential programs, primarily through its Warrior PATHH program. Columbia Team Members also continued their work with EmmanuWheel, whose mission it is to provide wheelchair ramps to mobility impaired individuals who cannot afford the cost of a ramp. Team Members built two ramps.
Team Members in Charleston volunteered at Windwood Farm, which provides therapeutic interventions that enhance social functioning and strengthen psychological well-being for youth and families traumatized by the effects of abuse and neglect. Team Members assisted in maintenance and general upkeep for the farm and residential group home.
In Greenville, Team Members assisted Upstate Family Resource Center by organizing, cleaning and packing for the organization to move locations. UpstateFRC provides families tools, guidance, and encouragement to become self-sufficient and strong through assistance and educational programs. Mungo volunteers also spent the week building a new playground and picnic shelter, and paving the bike path at Safe Harbor, which provides a continuum of services to survivors and victims of domestic violence, including housing, counseling, case management, and protective services. Volunteers were also on-site at Shriner's Hospital, which has been providing hope and healing to children for more than 100 years, through a compassionate, family-centered and collaborative environment. Team Members put on a "Mungo Fun Fest" for patients that included games, snacks, drinks, prizes, and a dunk tank.
Team Members in Myrtle Beach presented a check to the Veteran's Home and Resource Center. This check presentation is tied to a future project in memory of late Mungo Team Member, PJ Hainer.
North Carolina
The Raleigh Team used volunteer hours with the Raleigh Area Land Trust, which works to expand affordable homeownership opportunities for low to moderate income families to in effort for them to remain in the community of their choice. Team Members assisted with power washing, mulching, general yard clean-up, and building a fence. Haven House Services, the only homeless, runaway and crisis intervention program and shelter for youth in the Triangle benefited from Mungo Team members who rebuilt a storage closet with shelving, added new flooring, painted, and completed general exterior clean-up.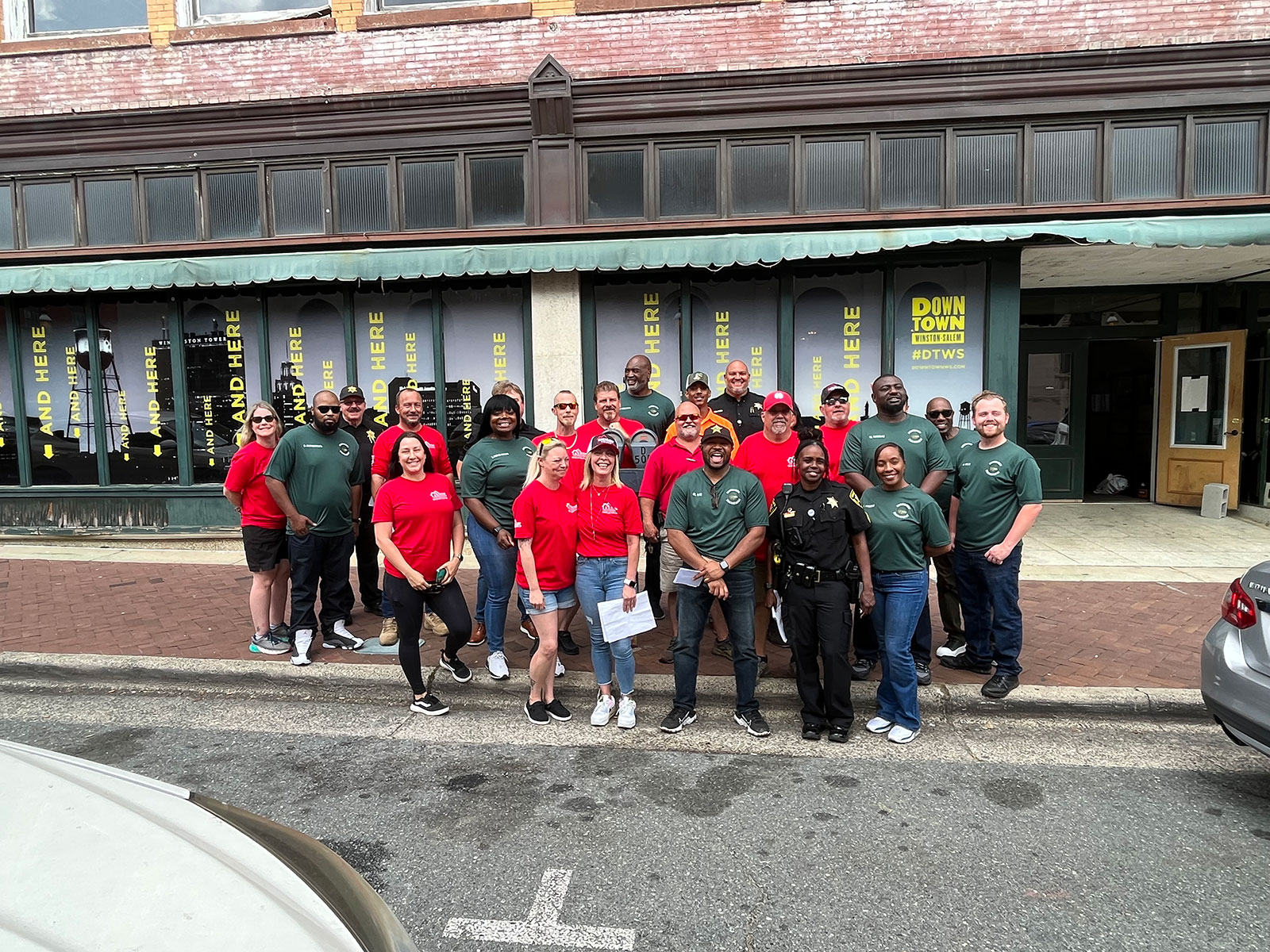 In the Triad, Shugart Homes Team Members supported A Bed and A Book, who provides clean, comfortable, age-appropriate beds and books to children from birth to age 18. Team Members assembled and delivered 13 beds to children currently sleeping on the floor; as well as complete full room makeovers for two children.
The Wilmington team provided labor for WARM NC, whose mission is to repair, rebuild, and make homes accessible; and to inspire service, generosity, and hope serving low-income homeowners in the Wilmington area, many of whom are elderly, disabled, and/or Veterans.
Georgia
Team Members in Savannah volunteered hours at Treutlen House at New Ebenezer, that provides a community-based, ecumenical ministry for children and families dealing with personal crisis and seeking to improve the current situation. In addition to general maintenance and yard clean-up, Team Members rebuilt the chicken coop and organized the shed.
Virginia
CraftMaster Team Members in Richmond used volunteer hours to package meals for the Meals on Wheels program for Feed More, whose comprehensive programs distribute nutritious meals and wholesome food directly to those who need it most. Working with the Richmond Community Toolbank, a non-profit tool-lending program for fellow non-profit organizations that support housing initiatives, Team Members also provided tool maintenance and repair, and restocking.
About the Mungo Homes Foundation
The Mungo Homes Foundation was established in 2021 with the sole mission of improving the communities where Mungo builds by providing economic, educational, health, housing, and emergency hardship support for events such as natural disasters. A portion of each home sold is contributed to the Foundation and is invested in the local community of that home.